Introducing Dragonfly

Tandem Dragon Boat
Introducing Dragonfly
Tandem Dragon Boat
TRAIN. RACE. PLAY.
Ideal for training, competition, or recreation, the Dragonfly Tandem Dragon Boat simulates the ergonomics of a full-size dragon boat at a manageable scale. Practice your form with a regular dragon boat paddle, even when a full team is unavailable. Or just get out on the water in a unique, fun, and stable new watercraft.
See it in action
Give the Dragonfly a test paddle, catch an exhibition race, and connect with other enthusiasts at an upcoming event:
2022 Canadian Dragon Boat Championships: Aug 18-21, Parc Jean Drapeau, Montreal
---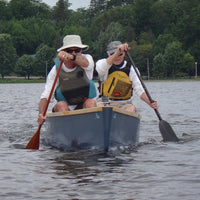 BENEFITS
• Accommodates two paddlers
• 40% more stable than a canoe
• Seat position allows paddlers to replicate a dragon boat-style stroke
• Pedal-controlled rudder for responsive steering
• Excellent for athlete coaching and assessment
• Standardized design for competitive class potential
• Fits on a cartop; easy to transport and maintain
• Ample internal volume for daytrips
---
EVOLUTION OF THE DRAGONFLY
Bear Mountain Boats and Steve Killing Yacht Design have a long history of contributing to Canadian sprint racing.

Builders of C4 and C15 sprint canoes since 1979, Ted Moores and Joan Barrett of Bear Mountain have worked closely with Steve Killing to create fast, responsive racing canoes that are easy to control and maintain.

Designing the Dragonfly Tandem Dragon Boat has been an opportunity to contribute to the sport of dragon boating. The objective was to provide a small boat for two paddlers to train without assembling a full team. Paddling the Dragonfly is very similar to the full-size dragon boat experience, replicating the feel, stability and performance of paddling with an entire team as closely as possible. It has a concave bottom just like a full-size dragon boat, and a foot bar used by the stern paddler makes steering intuitive. In the stern position a coach can assess a paddler's performance and technique.

The Dragonfly Tandem Dragon Boat allows two paddlers to keep in shape and work on their stroke while enjoying time on the water, and its stability and ease of steering make it well-suited to recreational paddling.
Read more about Bear Mountain Boats' contributions to the sport of sprint racing here.

---
Built by Nova craft
Nova Craft Canoe was founded in 1970, initially building fiberglass racing hulls for local enthusiasts out of a rural garage. Since then, their focus has shifted: Nova Craft currently offers a full catalog to accommodate the needs of recreational paddlers and canoe trippers of all skill levels. One of the first manufacturers to use Kevlar, they've earned a strong reputation for building classic designs with innovative materials, offering a range of composite material options along with rotomolded plastic. Nova Craft is based in southwest Ontario and builds all of their canoes in their London, Ontario facility. Their canoes are sold worldwide through an international network of distributors. Learn more at www.novacraft.com.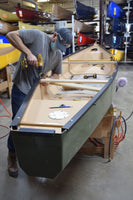 ---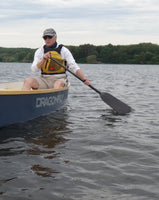 About Steve Killing
Steve has designed just about everything that floats. He started in 1973 at C&C Yachts with racing and cruising sailboats and six years later launched his own office in Midland, Ontario. His designs include canoes, kayaks, rowing shells, classic mahogany powerboats, historic vessels and America's Cup boats for both Canada and New Zealand. The Dragonfly concept evolved from a long association with Bear Mountain Boats and Steve's experience designing full-size dragon boats. The success of the Dragonfly stems from Steve's ability to work with the experts and mold the best ideas into a winning product with standout aesthetics.
---
About Bear Mountain Boats
Joan Barrett and Ted Moores of Bear Mountain Boats have over 40 years' experience building canoes, kayaks, and small boats. Ted's book, Canoecraft, has been called "the Bible of canoe building" and is the go-to reference for woodstrip canoe enthusiasts the world over.
In addition to supplying materials and instruction to home boat builders, Bear Mountain Boats has made important contributions to the field of canoe sprint racing—see our Sprint Racing and About pages for more.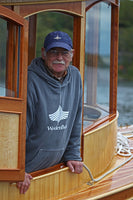 ---
RIGOROUSLY TESTED
Extensive consultation and prototyping has resulted in a highly polished performance craft. We solicited input on design from elite coaches and industry leaders, including Jim Farintosh, and Bill Byrick. The boat received excellent reviews from competitive paddlers from the Ottawa Dragon Boat Club, Carleton Place Canoe Club, and Ottawa Dragon Masters.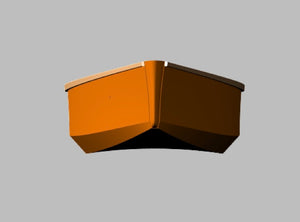 Length: 16' 9"
Beam: 38.5"
Center Depth: 15"
Hull Surface Area: 72 sq. ft.
Weight: 69 lbs  
Please contact us for pricing and availability info
CONTACT US
---
Testimonials
It felt very similar to a dragon boat when everyone's working together.

Colin Black, Carleton Place Canoe Club coach
I think it could definitely be used in a club setting, especially in a time such as a pandemic where you can only have so many people around you at one time.

Melyssa Cardarelli, Ottawa Dragon Boat Club member
I physically feel like I have paddled a dragon boat today.

Catie Sahadath, Ottawa Dragon Boat Club member
---
Write us to request information on how to order a Dragonfly Tandem Dragon Boat for your club or for personal use.
ORDER INFO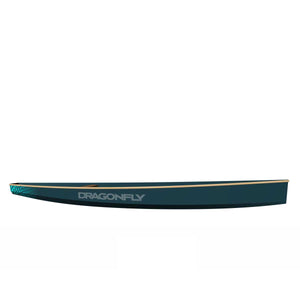 The Dragon Boat community is talking—read some of the coverage about the Dragonfly so far.
DRAGONFLY IN THE MEDIA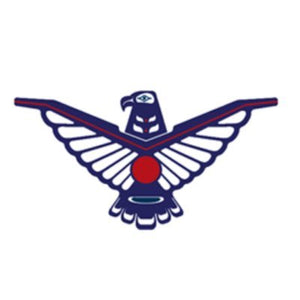 Learn more about our partners at Nova Craft.
About Novacraft
---